Just wanted to say hello after all these years!
Approx 10 years ago my husband (then fiancée) and I adopted a mini doodle from you we named Fletcher. The previous year my brother and his wife adopted a doodle named Kobe.
Both our pets have been the most amazing companions and we couldn't be happier. Healthy, happy, wonderful family dogs. Fletcher has seen us through the birth of our two daughters and our recent addition of two kittens (for our daughters) and he's tolerated it all so well. He's the best snuggler, the most loyal dog, and I swear he understands everything I say to him.
People always ask me where he's from and I always mention your name. So glad you're still doing what you're doing and that you've even expanded your business. I now run a dog walking business and Fletcher loves socializing with all the pups and I love getting to spend my days with him.
Thank you again for such a wonderful pup! You told us the day we picked him up "you'll have your hands full with that one" and you were right. He's kept us on our toes but we wouldn't have it any other way
Just wanted to send a couple of photos of Zoe and Charlie, the two female minis that we got from you in
November. They love to play together but are very social with other dogs too.
They are beautiful in looks and personalities and get lots of attention everywhere we go. THANK YOU!
I'm safe and sound here in Nova Scotia at my new home…say hi to my mom and siblings  for me.  I miss them but I love my new mom and dad..I sleep in my kennel beside their bed with the door closed.  I  'm not too happy when they close the door in the kennel in the kitchen though, but l'll get used to it. Everyone thinks I'm cute… Yesterday I went with mom to a Seniors' event and mom held me while the old folks petted me.  I come when they call me and I'll sit for a treat too… I  am having fun..
 
I have never had the pleasure of working with someone that has been so easy going, accommodating and caring.  You have included us every step of the way and made this entire process fun, exciting and educational!  This was an extremely big decision for our family since we lost our dog 6 months ago in such a tragic way.  Thank you for helping me to find a way to never forget about my Bailey but try to move forward.  We are all so excited to welcome Dunkin in to our family, home and our hearts.  You too, have felt like you have become an extended member of our family since you have guided us along from when I first reached out to you.  I can't think of any words that will quite fit or express my gratitude for all of the time that you have spent with me answering questions, sending me pictures and giving me advice.    I look forwarding to continuing our friendship and sharing new stories, pictures and memories that will be made with our new family member, Dunkin.  You really are one of a kind Helen and we are eternally grateful! 
Love,
The Brewer Family

I have 2 of your golden doodles.
Mary (6) and Georgie (ZuZu) 3yrs.
I wanted to tell you how much we love and care for these 2 dogs. They bring so much joy and happiness to our little family.
Don't get me wrong here..  they are a lot of work but I know that.. wouldn't be without them.
Here are some pics for you.
We get stopped on the street all the time with people asking us about these dogs.
I send your contact information along all the time to interested people.
This is my loyal, royal, noble, goofy, spunky, intelligent, graceful, calm, obedient Kippy. He came to me this way. The dog love of my life. 
 He is 95 lbs, about 27 inches at the shoulder and in perfect health, getting ready to turn 9. (He is actually white). I hope you are doing well!
 






Hi Helen,
We just wanted to take a moment and thank you for all your help with the adoption of our petite goldendoodle "Enzo". Since joining our family 3 short weeks ago he has been an absolute blessing and a joy to have in our lives.
Enzo is so smart, gentle, playful and full of life. Getting used to a new routine was something we believed would take time but Enzo adapted very quickly… almost immediately. Our two daughters absolutely adore him and shower him with so much love, and he returns the love with sloppy wet kisses. Enzo loves to be around other people and other animals too… he is very social and wants to the centre of attention. Because he is so cute… everyone just gravitates to him. I can't tell you how many compliments we have received.
We also wanted to say thank you for your support with all the questions answered before and after we received Enzo.  You made this process very easy and provided amazing advice. We can't tell you how happy we are with Goldenbelle Kennels - you are an amazing breeder and we would be happy to recommend you to our friends and family.
We plan to keep in touch and provide you with updates.

Regards,
Maria and Michael

Hi Helen, A year ago this weekend I picked up a puppy from you and have been meaning to send you an update on him - the year has flown by! Murphy is from Penny and Rusty's litter born September 24, 2013. He's an amazing dog who wins the hearts of everyone who meets him. He's energetic and curious, loves everybody he meets and is just completely loveable! Here's a picture from when I first brought him home and another one from this summer. He looks exactly how I hoped he would (actually he's even cuter!) and he's the perfect size at 27 lbs. Thank you for your help in adding this wonderful creature to my life! Cheers! Katherine
Hi Helen: I haven't sent you a picture of myself for awhile, so here I am after my groom today…..Bailey                                                                                            You were right Helen, his brain is catching up to his body now at 2.5 yrs old. He's getting smarter all the time. He reached 42 lbs., but he has slimmed down about 2 lbs now and just full of energy. Hope all is well with you; all the best…..Donna & Rick

Hope you're well. Just wanted to share this cute picture of Miss Abbey. She turned one yesterday.
Everything has been great. Can't imagine my life without her :)Jenn
Pics of Henry in Newfoundland. 
He is almost 10 months and we treat him like he's our child, we love him so much. Emily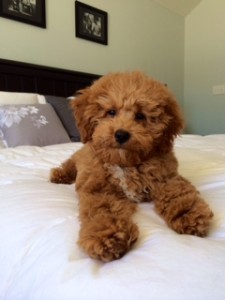 Hi Helen,
We wanted to send you a couple of pictures of the girls and to let you know how they're doing.  They're getting so big!   It's been 3 weeks now and they seem to be settled into our routine very well.  It's been quite a change for us and quite a joy too!  🙂  They are so smart!  It's probably no surprise to you that the greatest challenge for us and the girls is the training.  We've found that it really must be done seperately to be fair to them so we have their undivided attention and I think it's healthy for them to have a bit of time apart and one of us all to themselves sometimes.
Bailee is bold and adventurous and a bit more energetic than Bella.  Bella is a real snuggle bug.  She loves to be cuddled and a gentle belly rub is heaven to her.  She's a little timid at times but Bailee is there to encourage her and that goes a long way in helping to build her confidence.   They love to curl up together when napping or at bed time.
Thanks so much Helen for sending us the most beautiful puppies.  Everyone they meet falls in love immediately!
We'll send you another update soon!
Tony & Linda
Nova Scotia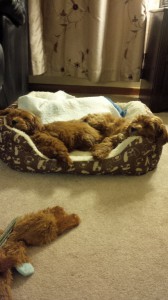 Hi Helen,
Thought I'd send along a couple of recent photos. Mila is growing up very quickly and we love her to pieces. The potty training is almost complete and she sleeps in her crate all night without a peep. Of course this means an early start to the day .
As we walk around the city she greets everybody and every dog she sees with her wagging tail and enthusiastic kisses. We're working on sitting when she meets people and she learns very quickly. Next week we start obedience classes and I know she'll be a star.
Her first trip to the vet went well and he said she is lovely.
Thanks again for delivering her to the airport for us and the flight home went well. She stayed in her carry bag without any problem as long as we didn't close her in so we simply left the end door open and she slept with her head on my feet most of the flight. The passengers around us commented as we were getting off that she was very quiet.
Debby
Hi Helen,
This is Terri from NC.   I'm the one who got the female red double doodle born on December 19th. She's almost a year old and
I wanted to send you a few pictures and tell you about her. I can't tell you how much we adore her! She is such a sweet and loving dog .
She is very very smart and she really loves to play fetch. She enjoyed swimming in our pool last summer. We took her to Florida with us
last Spring and she also loved the ocean. We can't imagine life without her. I just want to say thank you for giving us such a healthy,
sweet puppy . Hope you have a wonderful Holiday season.Take care,
Terri and Ken
Helen,
I know it has been a while, but I wanted to send you a short note to tell you that about five and a half years ago, you helped me welcome a little puppy into my life, and every day that I have had with him since then has been a complete joy. Findlay is a wonderful dog, with a temperament that many of our friends and neighbourhood dog-owners envy, great health and spirit, and even a cheeky smile that seems infectious. He has just been a light in my life, and is beloved by almost all who meet him. I am so grateful to you for introducing us, and I thought that I would share some pictures to say thank you for making my family more complete.
All the best, Meaghan
So very happy with our Mandy!
Mandy is a bit over 6 years old and I find myself checking out the website on a regular basis. I never had a dog before, did a lot of research and all together was pretty scared around dogs. Not the rest of my family though.
Mandy truly is a gift. We love her. Her personality is absolutely great. The vets keep commenting on her demeanor, her temperament and her health. She loves winter, loves running, is great with other animals of any kind, is absolutely devoted to her family (us)….and the list goes on. I would have never ever in my life thought it possible that a dog would be of such importance in my life and could teach me this much. I keep checking out pictures on Goldenbelle Kennel and today I asked my son who this dog Autumn, reminds him of….he said "in a way she looks like Mandy, but not completely…he is correct…Autumn is Mandy's mom and Rusty is her dad.
If anybody ever has any doubt about these dogs, just search rescue organizations, animal shelters, humane societies….you will not find a doodle there. They are way too good, way too family oriented, way too social.
Goldenbelle Kennel has been instrumental in providing the right temperate dog to my family. All I did was contact them and tell them our family dynamic…I asked to help me match and find the right temperament….and we could not have asked for better advice.
We also have friends that since then received a pair of mini Golden Doodles (Mandy's half sisters) and are so very happy with their dogs.
So, in summary, if I ever had the choice knowing what I know now….I would get a Golden Doodle again and my first search would begin at Goldenbelle Kennels.
Sincerely,
Bianca Whitesell,
Stittsville(Ottawa), ON
We just wanted to send you an update on Tucker our handsome apricot colored Mini F1 Goldendoodle. He was part of Rusty (Mini Poodle) and Brandy's (English Golden Retriever) litter born on April 8, 2013. He is now 7 months old in these photos and weighs 23 pounds. We could not have asked for a better dog. In a short period he has learned sit, stay, paw, down, come, up, down, leave it and has learned to not bite and only uses his jaw softly. He is incredibly energetic and loves to play with anyone who gives him attention. Walking the streets in New York City we get stopped with comments like "he's not real", "he looks like a teddy bear", "he looks like a stuffed animal" and many others wondering "what kind of dog is that!". Thank you for a great experience! We will continue to recommend you to all of the admirers we meet! — Phil & Nicola (NYC)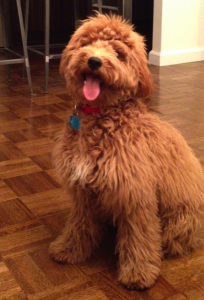 Hi Helen,
Hope all is well! Things are going great with Kallie, she is sleeping through the night in her kennel and we have started puppy school last week. She is SOO smart and already knows a handful of tricks! I walk her every night and she loves to go out for a run!  I have been reading lots of books and am working hard to be the best Mom I can be!
Just wanted to send over the cutest pics of Abbey and her big (step) brother Rudy!
They love coming into Wave and playing together outside on the deck and at the park on lunch. Right now they're side by side chewing on bully sticks.
Abbey has been adjusting really well. Everyone loves her. We're 5 weeks into obedience school and Abbey is the "demo dog". She gets new tricks the first/second time for the trainer demonstrate to the group.
She knows, sit, stay, come (recall), lie down and go to bed. Sleeping through the night in her kennel from 9pm-6pm and can hold it up to 6 hours during the day on her own in the kitchen/kennel. We haven't had any accidents in the house for about 3 weeks now!
Cheers,Jenn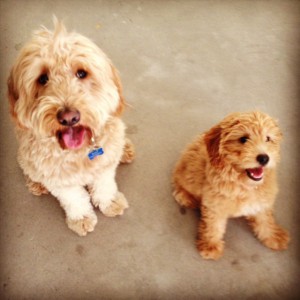 Hi Helen,
My apologies for not sending an updated picture of Lily sooner. She is an amazing dog and we love her to bits- she has been easy to train and is a very loving puppy. Since she is house trained now, she sleeps in bed with the one of the boys every night. She has proven to be an excellent bird hunter too -flushing out and retrieving partridge !
Here is Lily and Oliver taking a break from hunting. Thanks again for such an awesome puppy! Cheers Jodi!
Hi Helen,
I just wanted to send you a note to let you know how Daisy
is doing. She is 5 1/2 months now and has been a wonderful
addition to our family. She has a very sweet personality,
and she loves all people and dogs. Housetraining went very
easily, and she has learnt several basic commands and a
couple of tricks. Whenever I walk her people are always
stopping and commenting on how adorable she is. She follows
me wherever I go in the house, and she is also a great
companion for my kids.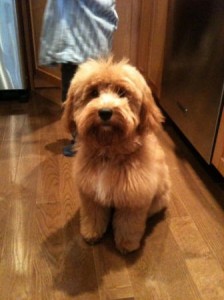 Hello, Helen,
It's Nick, Emily and Tully from New York City. Tully has
been such an amazing addition to our little family. He's the
most amazing puppy. So smart (he sits, lays down, waits,
shakes, dances and is starting to walk on two legs), so fun
(he ALWAYS wants to play) and so loving (he's a good
snuggler when he calms down).
Basically, he's the perfect puppy.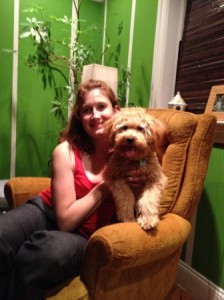 Hi Helen, just wanted to touch base and let you know that Remy is doing great!!
He is a wonderful puppy with a fantastic disposition. He is incredibly smart and is learning new commands very easily. We have enrolled him in puppy classes at Pet Smart and he loves to socialize with the other puppies. He is the perfect fit for our family and is very loving. We are thrilled to have him as part of our family. I would be happy to provide a reference for you anytime and will continue to send people your way. Thank you so much again for all your help and patience.
Remy and family xo
Helen,
I hope this email finds you well. I just wanted to update
you about Madi(ba), who we bought from you in March 2012.
Madi just turned 1 years old on December 7th and was from
Lacy and Rusty's litter. He weighs 30 pounds now and is an
amazing dog. He has brought so much joy to our family. The
news I wanted to share with you is Madi was certified to be
a therapy dog on December 16th and is the youngest member of
the Good Dog Foundation team in New York City. When we began
training, the dog trainers were skeptical he would become
certified due to his age. However, Madi soon proved them
wrong and became the star pupil of his class. We are very
proud of him and know that he will bring so much joy to the
many children he will be working with over the course of his
lifetime. He will primarily be working with children in
foster care and children with both learning and physical
disabilities.
We want to thank you so much for the amazing addition to our
family and let you know that he is a very happy dog and
brings a smile to everyone's face he meets. !
In kindness, Suzy
Hi Helen!
We've been meaning to send you an e-mail update on Bentley, and to thank you for breeding such a wonderful puppy. He's Fergie and Rusty's pup (we picked him out of a litter of 4 and he was the huge "suck" if you can recall). We love him to pieces and our friends and family can never get enough of him! We always have people offering to walk him for us and people stopping us on the street to take pictures of him; he's a bit of a celebrity and he even has his own hashtag on instagram #benditlikebentley. We also take him to Cherry Beach (an off-leash dog park), almost every weekend!
He's grown up a bit and is between 11-12 pounds now at 7 months old – perfect for our condo in downtown Toronto. He was afraid of all the new sights and sounds when we first brought him home but has adjusted perfectly. He is always the first to greet a new dog at the dog park and knows all of his commands – sit, come, paw, play dead, lie down, leave it, take it and wait. I'm proud to say that he has great manners since he always waits for everyone to enter a room before he does, and the same goes for when we are on our way out the door (he makes sure everyone is out before he is). He is so well-behaved and wants nothing more than to make everyone around him happy!
Hi Helen,
Just want to show you the latest photo of SYDNEY at 15 weeks old. He is doing just find. He is sniffing a lot and learning to walk on leash (he is getting better). He has done many tricks — sit, down, roll over and bow. He also learned to play fetch. He is starting to like his crate more everyday. He gets along with kids and also other dogs. He is very gentle and enjoys our attention. This picture was taken at HUMBER BAY area with the CN tower in the background. He has tons of play ground and other dogs to play with in this area. Thanks again Helen!
Ann and Jason
Helen,
Attached is a picture of Taishi. As you can see, he is growing just fine!
He just graduated from puppy training class. He sits, lies down, rolls over, walks on a loose leash (almost all the time), sits and will not take a treat right in front of him until told it is OK, responds to hand signals. We use food-dispenser toys to feed him to slow him down, a bit, and to make him work for his feed…he loves batting the things around to release the kibble.
We still have him in his crate at night and during the day if we are out. He sleeps 7-8 hours with no difficulty and come about 10pm, he is well asleep on his big pillow bed in front of the TV, gone for night except to move upstairs!
He loves squeaky toys and often goes around making as much noise as possible!
The grandkids love him and want to see more of him (they live in Toronto). He has a good temperament.
Trust your new litters are doing fine. We did recommend you to friends who I know has been in touch. They are quite taken with Taishi.
Cheers….John
Dear Helen,
Greetings from Maggie and family.
I hope you and everybody are well in Lucknow.
Here is a picture of the sweetest dog in Missisauga who turns two years old on Friday February 22nd. She is just a sweetheart and we all love her. Her separation anxiety is almost non-existent now. She sleeps in Michele's bedroom in a little bed I bought her from Home Sense. We just started doing this about two weeks ago. She is in her crate now only when we are not home but hopefully that will change too. She is healthy, happy and a lot of fun. We have a lovely lady who is our dog walker who has been walking dog for over ten years and her sister has been doing it for almost twenty.
Thank you so much for selling her to us. You've made us all very happy.
I hope all is well with you and your family and Golden Belle Kennels.
Take good care.
Stephanie
Dear Goldenbelle,
Hello! That is a picture of our dog Molly! We purchased her from you about three years ago! We just wanted to let you know that she is lovable, friendly and doing well. That is the most recent picture we have of her, it was taken about a year ago. She hasn't changed much since then though. Thank you so much for the beautiful dog!
From: the McKenzie family!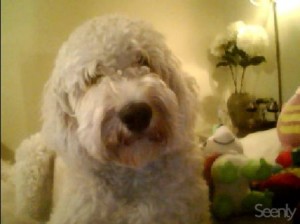 Hi Helen,
Rocky is doing well. His birthday was November 28, 2010- he was called "Toby" by you. This photo taken by my cousin, won a photo contest. Obviously he is enjoying the lake in the summer- he took to the water immediately. He really likes being a farm dog too. He loves all people, kids and other dogs. What a guy!
Rob and Nancy Cameron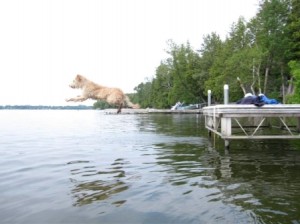 Hi Helen,
It is hard to believe that it will be a year on Jan. 5 since we picked up Miles our mini doodle. He just celebrated his first birthday on Nov. 10, complete with a party of doggy friends. He has been in 4 agility classes and is just now completing fly ball. He is the most amazing dog I have ever owned. He is completely devoted to us and especially loves our German Shepherd. He is the smartest dog I have trained in 30 years and he continues to amaze me. Why would anyone buy anything but a mini golden doodle? Thanks for such a great dog. We hope all is well with you.
Linda Walsh
Hi Helen,
I wanted to update you on Spencer and Bella both mini goldendoodles. We got them Jan. 2008 – pups from Rusty and Autumn (they're brother and sister) They will be 2 yrs old at the end of Nov. Can't believe how time flies! I must say, coming from someone that has never had a dog before to going to having 2…they have got to be the BEST dogs in the world. I walk them anywhere from 3 – 6 times a day, they love the outdoors! They are so adorable, they love us (I think) as much as we love them! Spencer our mini doodle is such a playful puppy, he loves to play with us and any chance he gets he will grab a shoe and run hoping that we will chase him. Bella just loves to cuddle with us all the time and lick us to death! The two of them love playing with each other and they cuddle together also.
Just wanted to send some updated pictures of the two of them. We always get comments from people on the street walking or people in their cars telling us how beautiful they are, we even got stopped by a photographer from the Hamilton Spectator when we were doing the Terry Fox run for a family photo. We love our puppies very much, thank you!
Charlene, Marc, Michael & Lucas M.
Hello Helen,
Just wanted you to know how Denver is doing! He is AWESOME!!!! Today he went for his three month check-up and shots. He weighs 14.6 pounds so it looks like he will weigh around 35-40 lbs. He is also doing the head start program at McCann's. He knows how to sit, stand, here and lots of other things. He is a genius! For fun at puppy school we are teaching cool tricks and he has pretty well mastered rollover and spin. We do not remember life without him! We will send more updates next month about his weight and everything else he's doing. Thanks again for our wonderful mini dude
Maryanne
Hey there Helen,
I cannot believe it's been over a year since I first found you .Well a lot has happened since we got Denver…..He is still awesome!!!! We are doing grade three at puppy school and also agility level one. He is so much fun and everyone we meet wants' to know where we got him. (Trust me I tell them) For those people who want to know what mini doodles are like I can tell them that they are the warmest, friendliest dogs you can find. Denver our mini doodle is one of those dogs who smiles and we also think he laughs. We tried to get pictures of that but he stops as soon as the camera is out. (In the picture I sent he is smiling a little) He is weighing in at 38 pounds and we are so happy with him. (we're even considering another over the next year-this time a girl) Thanks again Helen for such a wonderful boy, he really is such an added member to the family !!! Truly,
Maryanne Islip
Hi Helen
Sorry it has taken me so long to send along a picture of Riley our mini doodle………this one was taken a few months ago, he hasn't changed too much, but is now quite allot bigger……..23 lbs……at 5 months old………we are thoroughly enjoying him…..he is completely trained now and has the run of most of our house, his favorite spot is in the front window, watching the world go by.
So many people have stopped us on the street inquiring about his breed, he is so friendly, loves people and especially other dogs…..he went to puppy school, was the chosen student some of the time and made us proud……other times, he was the class clown.
take care and enjoy the holiday season.
Jan from
Thornhill, Ontario
Meet Ginger!
She is an F1B mini Goldendoodle. Her parents are Rusty and Ruby. Ginger our mini doodle is now 7 months old weighing 20 lbs. and is 19 inches tall to her back. She is crate trained and is almost totally house broken. Ginger is a fun, loving, calm and gentle dog with an excellent temperament. She is very relaxed, easy going, and not hyper at all. She absolutely loves people and is great with children. She loves attention, yet she is very independent and enjoys her time alone. Ginger has had obedience training and will "come", "leave it", "take it", "speak", "jump up" and "lie down" for her treats. She automatically goes into her crate and waits for a treat after she comes in from doing her business. She loves to sit by the front door and sliding door to look outside. She is very well behaved and rarely gets into mischief. She listens well, but at times she has a mind of her own and tunes us right out. Ginger loves her walks and to run in the backyard chasing the kids. Boy does she run fast. She loves to chew, play with her ball, and with her stuffed toys. Her stuffed squirrel is her favorite. She also loves to play tug of war. She is pretty funny, especially when she growls and barks at her own reflection. People often ask us about her breed and want to know where we got her from. A lot of people say that she looks like a teddy bear. We are having so much fun with her. She has made a great addition to our family. Thank you Helen for a wonderful dog!
Marty, Marisa, David and Jessica
Aurora, Ontario
Hello Helen!
Thought you might want to see some pictures of our Riley our mini doodle. He's now 14 week old and has a great temperament. He's been a wonderful addition to our home. Plus he's one of the most handsome dogs we've ever seen (can you tell that we're proud parents?)!
Hope all is well,
Jennifer
Hi Helen!
Hope things are all going well with you and the new puppies at Goldenbelle! Rosie and Echo's pup's are beautiful!
Just wanted to send you an update on Jaxon our mini doodle, He is doing so great! Fully house trained now just a couple accidents here and there but he learns so quickly! He can sit, lay down, stay and shake a paw! He learned all these tricks in just a few days. Mini doodle's are just amazing dogs! He is such a cutie and brings so much fun and happiness to our day! 🙂 He is growing like a weed, now at 13 weeks he is about 14 pounds and just looks like a fluffy little teddy bear! He get compliments on every time we go out for a walk, everyone just wants to stop and pet him – which he LOVES! He has a great personality and is very social! We have him enrolled in puppy classes in town which he also doing very well in, a little shy of the big dogs but coming around just great! He has been sleeping through the night since he was about 10 weeks.
We couldn't be happier with our newest addition! 🙂 I have attached a few updated pictures of him.
We want to thank you so much for our little mini goldendoodle!! There is nothing better than coming home from work to wet puppy kisses!
Thank You So Much,
Heather, Corey and Jaxon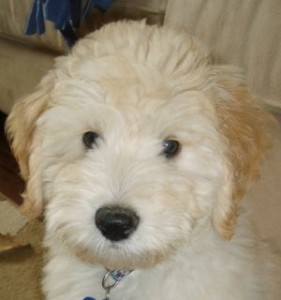 Dear Helen,
As I mentioned on the phone, Miles continues to be the light of our lives. He is so incredibly smart! He has just completed all levels of Rally – O competition and has his versatility title. I must brag for a moment and mention that he had 3 perfect scores, 200 out of 200 in the excellent division and all other scores were over 195. He has so many firsts that we have devoted a special wall for all of his medals and trophies. Most recently he has been competing in canine musical freestyle; dancing with your dog. We danced to "teddy bear's picnic" as he looks and feels so much like a teddy bear. We have our beginner title and just have been informed that we passed our last competition giving us our next title in Novice. If you don't know about canine musical freestyle you can Google it and you will see the World Canine Freestyle Organization listed. Owners tape their dance with their dog and then submit the tapes to judges for the WCFO. The judges and competing dogs come from all over the world. Miles came second in the world in his last competition!! He enjoys swimming in our pool and has easily conquered the ladder in the deep end. He is now in agility and enjoys learning new things. It is wonderful to have a loving, intelligent pet who loves to play or just sit in our laps.
Thanks for a great dog!
Linda
Murphy is almost 8mths old in this picture, as you can tell he loves to be outside running and getting dirty, he is definitely an outside dog, he loves to go for walks and loves to play with other dogs and is very social!
He is a wonderful part of our family, he is very loving and loves to give lots of kisses, I could write a book on all his positive qualities, he is one of a kind! I will keep you posted on how he's doing.
Thanks again for giving us such a GREAT dog!!
Jen and David
What can we say???
Our whole family is just soo in love with this dog. She loves to be outside, she loves walks, she loves to play fetch, and she just loves everything!!! She loves each and every member of our family but she certainly has a soft spot for her master. The affection that this dog shows us is beyond words but I think this picture captures the absolute LOVE she has for her master.
When she wants to go for a walk, all she has to do is look at us a certain way and we know exactly what she's asking for. Kelsey is, without a doubt, the light of our family's life. 10 months old today!!! And we love her more and more every day!
Steve, Terri, Matthew and Brittany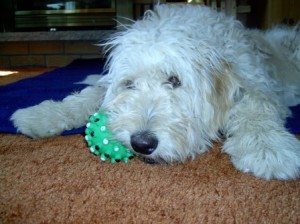 Hi Helen,
Can you believe Kelsey will be 6 in June?
Steve and I were just browsing your site and peeking at all the gorgeous dogs you have!
We thought maybe it was time for you to see our Kelsey girl! Her mom is Jenny….do you still have her?And what about her daddy,Cody? Give me a few minutes and I'll send you a pile of recent Kelsey pics, ok???
Cheers!
Terri
Hi Helen,
Thought we'd update you on Lucy's progress. She now weighs 20 pounds. She loves being outside, even in the snow and rain. Everyone thinks she is adorable. She has learned basic commands. We haven't started puppy school yet but we are looking into it. She loved riding into the forest on the back of the ATV. She was our mascot for our son's hockey team this winter. our son's hockey team this winter.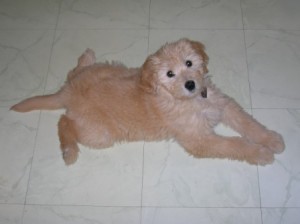 Hi Helen,
All is well with Toby. He is now 10 months and thriving. He is playful and energetic, but very gentle. I will attach some photos. We are spending our April vacation at home to spend time with our family, including Toby.
Jeff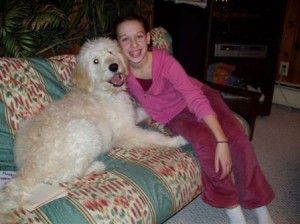 Hi Helen,
My kids are really loving their new puppy. He is doing so good. He is happy and runs around like crazy but also has some nice quiet times and is starting to behave very well. He is doing obedience training and I cannot believe how smart this type of dog is. He catches on really quick. I have been on your website recently and it looks great. I hope your new puppies are doing well. I wanted to send you some photos of Charley so you can see how big he has gotten. He is doing really well and I am really happy with his fur colour. I never thought to get a red one. These photos were taken in March. I will send you more as he gets older.
Take Care
Enjoy the photos.
Pia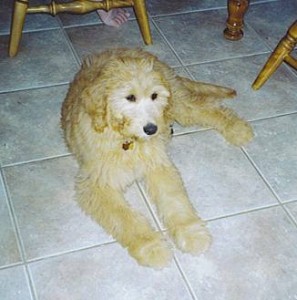 Riley is now 4 and a half months.
He has passed puppy school with flying colours, and we start intermediate this Sunday. The trainer thinks he is one of the smartest dogs she's ever trained. Though she does not think this of all doodles bred by certain other breeders. We keep getting compliments on him and recommend you. How many were in his litter? Did his sister get a nice home? Would you like us to keep sending you his photos and info on Riley? My allergy reaction is minimal so far, but I need to take certain precautions. He is full of energy. We love him dearly.
Sincerely, Kathleen & Muriel
Dear Helen,
We are having a ball with Riley. He is very smart and has graduated from three obedience classes already and we will start advanced next week. My allergies are OK after all. He is one of your litter from Cody and Jenny December 22nd 2004. Here are a few photos in our backyard of him helping us water the garden. He loves water and digging. He has lots of energy, and loves to play with everyone. He has the Life of Riley. I think he is a good candidate to be a therapy dog. We'll pursue this in time. We've looked at your website and see that you are very busy. Keep up the great work. We recommend you to others for their doodles.
Sincerely, Kathleen, Muriel & Riley.
Hi Helen,
Sending some recent pictures of our Maggee. She is now 6 months old and
weighs 40 lbs. She is attending obedience school and doing quite well. she is very smart but also a little stubborn.
Hello,
My name is Candice and my partner and I got a dog from you a few months ago. She is the daughter of Cody and Belle and I thought that I would write you and give you a quick update on her. She is doing amazing. She has been a great addition to our family. We named her Sacaya and I can't believe how smart she is. She was house trained very fast and now at 5 months she already knows sit, lie down, stay and shake a paw. She is also so friendly and loveable. She loves to snuggle up to us. We get many people stopping us on our walks to tell us how cute and well trained she is and how much she looks like a big teddy bear. I have sent you a few photos of her. The last one is her after taking her very first swim at a cottage. Anyway I hope you enjoy them. Thank you again so much for Sacaya. I don't know what I would do without her. I hope that you and all of your family are doing well.
Candice Smith.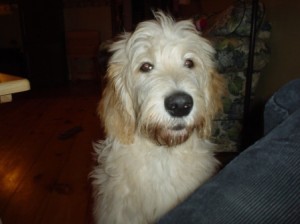 Helen,
We recently celebrated our puppies birthday. We received one of your early June 2004 puppies. We thought that you might want to see what they look like now. In case you don't remember, we received a female pup (Missy) and our friends received a male pup (Snicker). We drove together to pick them up last August.
We got together over the Memorial Day weekend to celebrate their birthdays. Missy is about 50 pounds. Snicker is around 80 pounds.
Missy has brought much joy into our lives. Thank you so much.
Donna Taylor.
Hi Helen
Here are a few more pics of our Mellow. She continues to grow and steal our hearts. She has doubled her weight in almost 3 weeks. Housebreaking is going well and she knows how to sit, shake a paw and lay down. We are working on the nipping now, when she gets over excited she get s a bit carried away but I guess that's to be expected as she is just a baby. She has adjusted splendidly to our family, can't say the same about our cat, she still is not too sure about Mellow. Thanks again for providing us with our girl, we do love her. Take care,
The Runnings.
Hi Helen,
Just wanted to give you an update on Mellow. She is thriving and has become a steadfast part of our family. She will be 16 weeks old this Saturday and is growing quite nicely. Her looks are changing a bit. She is housebroken has been for about 3 or 4 weeks).
Sleeps through the night and is learning to Heel on our walks. She is definitely a very intelligent dog, learning quickly. Mellow is a heart stealer, everyone just falls in love with her. We have had her at large family functions at the cottage, everyone comments on her mellow disposition. We are doing lots of advertising for you, I am sure though that these lovable pups do the job for you. We couldn't be more pleased with our newest family member. Although we are anxious for those razor sharp baby teeth to fall out. I have noticed that they are getting lose. She loves to be outside here and at our cottage and has proven to be quite the blueberry and raspberry picker. Thanks again for giving us the opportunity to experience the wonders of owning a "doodle". I can assure you that many people in Sault Ste. Marie now are familiar with the breed. As a matter of fact our Vet. is quite interested and I did give him your website. I will attach a few new pics for you.
Sincerely,
Cathy, Dave and Emma.
Hi Helen,
We wanted to give you a quick update on Mellow on her first birthday. She continues to be a source of joy for us. She is smart, so friendly and quick to steal people's hearts. Mellow is a good dog, she learns fast and loves to play outdoors. She is a special part of our family. We even have had people stop us on the street to enquire about her. One lady even came out of her house to ask what kind of dog she was.
Thanks so much.
Cathy, Dave and Emma Running.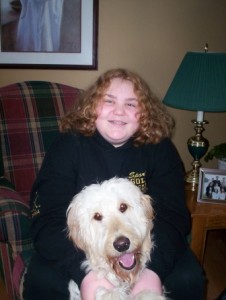 Hi Helen,
Just a quick update on Mellow. She turns 6 months this weekend and is having "the operation" on Thursday.
She is a beauty. We have had 6 private obedience lessons and our trainer could not believe how smart she is.
Mellow learns very quickly. She is so social, loving everyone she meets. She also gets along with all the dogs shehas met. She has become a very focal part of our family. We love her dearly. She loves to be outside and has quite the taste for fresh tomatoes which she has taken to picking on her own. She's proven to be quite the berry picker also.I have attached a couple of photos, hopefully you receive them okay. Thanks again for our Mellow. Take care.
Cathy, Dave and Emma Running
"Yankee" is doing great. I have enclosed a pic for the website. He is 4 1/2 months old in this picture and is doing amazing in puppy class. He is adorable.
Here is an update on Yankee's progress. He is 11 months old in this picture, and has turned into a great dog. He is doing pet therapy at the senior homes. He was born to do this kind of work. Obedience training is going well. He is almost ready for off leash training now. My dobe has tried to teach him to be a guard dog. However, he barks, but can't stop wagging his tail and "smiles" when someone comes. We enjoy him immensely!
Linda Squire
Hi Helen,
We bought a dog from you this June. He was the male dog who was supposed to go to the US but couldn't be shipped due to high temperatures. We named him Jasper. Apart from eating a lot of branches outside :), he's doing very well, loves to be around people and other dogs, great temperament, can get very exited at times, hasn't chewed anything in our house, completely trained to do his duties outside, we're even able to now leave in alone in the house for a few hours and he just sits by the front window looking outside (he loves to do that) while we're gone. Wherever we go, we always get asked where we got him and I've referred people to you a few times. I'm completely satisfied with him and happy we got him. I've attached two pictures that you can use as you like, he was a about 5 months old in those pics (he's now 7 months old).
Annie
Hi Helen,
It's been almost a year since we first picked up our Maggee and she is
doing great. She is the most loving pup. Almost everytime we go for our
walks, someone will stop and ask what type of dog she is. She is so
beautiful.
Thank you for breeding such wonderful pets.
Hi Helen.
A long overdue note to let you know how Katie is doing. Since we picked Katie up on August 27, she has become a wonderful part of our family. She did so well on the drive to Sudbury, sleeping between my two daughters the whole way.
Katie has had all of her shots and was spayed two weeks ago. She did very well and has bounced right back. There is a male 1 yr. old Golden Retriever that lives next door and he and Katie have become best of friends.
Katie is over 50 pounds now and is almost as tall as the Retriever next door. She is house and crate trained and has lots of room to run around and explore. We live on a lake and she really enjoyed swimming this past summer as well as the odd ride on our boat.
Katie loves chasing Frisbees and her basketball. She walks the girls to the bus stop every morning and afternoon. We also have a hamster and Katie is so gentle. He can roll around the family room in his ball and she doesn't even react when he rolls right into her when she's lying on the floor.
Thank you so much for bringing us together with Katie. We have all fallen in love with her and look forward to many years of companionship with our newest member of the family.
Kim, Dave, Sarah and Lauren Healey
Dear Helen,
Finally I have a few minutes to send you a photo of our sweet little" not so little anymore" girl. She is the sweetest thing on the planet. Her disposition is almost angelic. She is very social and gets lots of practise as our caretaker has 3 dogs that come to work with him everyday. Penny sits and waits for them to arrive each morning. We love her dearly. She is fully house trained, thanks to your good piece of advice and we are enjoying her every single day. Our vet absolutely loves her and when we have to kennel her, she sleeps in their house because their 8 year-old son adores her.
She travels very well in the vehicles so she really doesn't stay at home very much.
Take Care and we will keep in touch.
Hi Helen,
Here are a few pictures of Casey. He is doing well. Today he gave me a clear sign that he needed to go outside to poo and pee. I was so proud. He was a superstar today. I am getting more comfortable with him. Thanks again.
David Spinner
Hi Helen,
I am writing to you to say that I am doing just great in my new home. David and Jen have spoiled me rotten – but hey who am I to argue. They love petting me, and cuddling with me everyday – who knew I would get so much love and attention. Since I last wrote I learned that pee and poo should only happen outside, but hey sometimes mommy and daddy just don't listen and accidents happen. David comes home everyday to walk me at lunchtime and then feeds me a nice meal…but I have heard some rumblings that lunch will no longer happen after next week – don't know if I am going to like that. I think I have a bit of cold now, but that does not stop me from running, eating things I shouldn't be (yes I do that, I had a little run in with some fish that I took out of the garbage) Mommy and daddy were not happy about that one – I threw up everywhere.
This lady has started coming over to the house once a week and makes mommy and daddy do things with me and we do it over and over and over – I keep getting treats. I learned to walk properly and not run ahead – when I do that, I have to turn around and start over again…I get tired of doing it sometimes and then I stop listening. Mommy and dad say sit and I sit…they think I am so smart. I also lift my paw when they say "gimme 5" that is pretty cool – I get treats for that too.
One of my favourite things is when daddy comes home from work at the end of the day and takes me to the park. I pull him so hard right to the car and I sit down until he opens the car door. He thinks this is so funny. I get to play with all my friends. I especially love Molly. She's really big (175 lbs) and cuddly and she let's me jump on her head and belly (see picture). I have a blast! I also love chasing after all the other big dogs but they put me in my place if I am acting like a pest.
I also love when mommy brushes my teeth with this yummy beef flavoured stuff sometimes I do it myself (see picture). My coat is always brushed so that I look great! I must say that I'm pretty darn cute!
Casey Hi Helen,
I just wanted to let you know that David and Jen are taking very good care of me. A couple of weeks ago they left me at this place for an entire day and when they came to pick me up, I had to wear this silly cone on my head…Not sure what they did to me there, but something seems to be
missing. After that David did not take me to the dog park like he used to, and we only went for short walks, I don't know why. Then one morning we went back to that place and this lady took a thread out from my underside.It did not hurt one bit, I was such a brave pup! Then we went on this car ride and I was left at this place that had 3 large yards for me to run in…wow it was like heaven. There were other dogs there too, but I was by far the cutest and smartest! I did not see mommy or daddy for a whole week and I missed them, but they came back all tanned, they look good! I was happy to see them again. Now we go to the dog run again, everyday and I see all my friends. Daddy says I weigh at least 45 lbs now…I am getting to be a big boy.That is all for now, hope you guys are doing well. Here is a new picture of me taken a few weeks ago. I think it is pretty fun that I stuck my tongue out at the camera.
Write to you soon.
Casey
HI Helen,
I have to just keep updating you on our wonderful puppy. Casey is now almost 10 months old, weighing in at a svelt 60lbs. He is doing so well, he just loves playing outside with his pals, and going swimming. We just took him to the Paw House Inn in Vermont. A great B&B that your dog sleeps in your room with you, there is a great dog run with all sorts of Agility exercises, he particularly liked the tunnel and the climbing toy. He is just the best puppy, we get stopped everywhere we go, they love his colour and his face. Here is a picture from our recent trip.
Just wanted you to know that Ripley is settling in well. I took some pictures of him and thought I would enclose them for your gallery if you want to use them.