Once a puppy becomes available you can reserve with a 500. deposit.
The full price is 3500 plus tax
We reserve the right to return deposits or refuse an adoption if we suspect the family and puppy will not be a good match. We want to ensure that you and your puppy are both happy.
Wait times can be anywhere from 4 to 12 months depending on Mother Nature, which type of puppy you want and how many applications are a head of yours.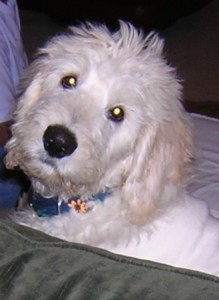 Thank you for your interest in one of our puppies. We offer a 4 year health warranty as well as house and crate training being started for you.
If you are ready to place a deposit please fill in the application form below. We accept the $500. deposit through PayPal, credit cards, e-mail transfers. Deposits are non-refundable unless special arrangements have been made, they can be transferred to a future litter, otherwise the balance of what is left after fee's, taxes and extra advertising cost will be donated to a local shelter.

Ask about our home delivery service!
If you find it hard to get away or would just prefer your puppy delivered we can deliver your puppy to your home at your convenience for $0.65 km. round trip.
Your puppy will also be receiving Nuvet Plus immune support for the entire time he/she is with me since starting NuVet Plus at an early age will help your puppy grow into a healthy adult. I highly recommend you keep you puppy on Nuvet for its lifetime. Order Nuvet here (1-800-474-7044) http://www.nuvet.com/63533.

Please read!!!! I can only make an educated guess about the weight of any puppy, there are big dogs and little dogs in the puppies makeup so every puppy is different, if asked how much a puppy will weigh as an adult I can only give you my best guess, I can in no way guarantee a weight. I also want to address concerns by some that I'm hard to reach, I'm the first to admit that it is indeed difficult to reach me at times, I'm very hands on with my dogs and puppies, training, grooming, socializing, playing and caring for my fur babies takes a lot of time and is a priority for me, as I get older these things take me longer than when I was in my 20's or 30's I don't have a "team" to answer, texts, calls, emails, etc. I get dozens of inquiries everyday, , once my dogs are taken care of I try to sit down to tackle the many inquiries but just like young children my dogs have needs and cant understand that I'm busy so I'm constantly jumping up to check on them or to let them out or in and so on and its impossible to get to everyone right away but at the end of the day rest assured you will be receiving a puppy that has been raised with love, a puppy that is well adjusted, great with kids, is confident and has been raised with care and commitment and whose parents have also received the best care, exercise, and love. Once you get your puppy home you will understand the amount of time and work that goes into raising a puppy now imagine raising a litter of 10.  Thank you for understanding, Helen
Puppy Application
Please provide the following contact information:
By Submitting form you agree to our policies below.
The risk of parvo increases for a breeder each and every time the breeder allows the general public to come into contact with their puppies and dogs, regardless of their age.
I have always been open to visits and would like to keep my policy of allowing visitors but there have been some misunderstandings lately that I would like to clear up, when visiting please keep in mind that this is our home, if your intention is to just see puppies and see what adult doodles look like, act like or test your allergies then this isn't the place to do that. There is a wealth of information on the internet and if you would like to see doodles in person and get to know their personalities as pet doodles not intact breeding doodles then just Google doodle romps in your area, you will find hundreds of doodles and proud owners that would love to talk doodle all day with you if you have the time.
We have to protect our puppies and dogs from harm not put them in harms way and unfortunately that's what we would be doing if you are just "kennel hopping" to see who has the cutest doodles. I want to place my puppies with someone who has the puppies best interest at heart and that includes the puppies parents best interest as well. There are more and more kennels not allowing visitors so for the safety of all dogs and puppies please respect my policies so I can keep allowing visitors. Humans can track in various and serious dog diseases that could be devastating to the puppies and dogs. Your more then welcome to come and visit us to see where your puppy is coming from but any unvaccinated puppy and their mother will be in a bio-secure area, families with deposits view the parents and puppies after the puppies have turned 6 weeks old and had their vaccines.
To insure the health of your golden doodle puppy visitors are not allowed in the maternity area. Strangers viewing and walking in the area excites and upsets the Moms and puppies.
Following these guidelines allows us to provide overall kennel safety and healthy puppies.
The full price of any puppy regardless of size and colour is 3500. A 500. deposit is made to secure a certain puppy and 3000. is due upon pick up. If shipping or delivering a puppy the remainder of the balance is due a week before. Shipping is 1000. 13% sales tax is added to the price of the puppy. We reserve the right to refuse the sale of a puppy if we feel its not going to be a good match at which time your deposit would be refunded in full. Placing a deposit does not guarantee the timing of an available puppy. Deposits are non refundable.
*SORRY NO VISITS DURING THIS COVID PANDEMIC*
By ticking off the yes box on the application you agree to these terms.
Thank you for helping to keep my babies healthy!!!