We are dedicated to raising high quality GoldenDoodles,
Australian LabraDoodles & DoubleDoodles and new to our program is the Cavadoodle and now the Standard Bernedoodles and Mini Bernedoodles. Pups are born to registered, health tested parents.
All puppies come with a health certificate and a 4 year written health warranty.
Puppies also come freshly groomed with their blanket, a small bag of TLC dog food. All puppies have age appropriate training started including crate and house training and are well socialized.
 We breed petites, minis, medium and standard doodles, we are very pleased with the quality of the puppies and know you will be too! Puppies receive a high quality NuVet immune booster supplement daily, they love the taste and I love the results. I highly recommend you keep you puppy on NuVet for its lifetime. Order NuVet here http://www.nuvet.com/63533.
We finally have some availability!
These Mini Authentic Muligene Australian Labradoodle males are ready to go, they come with first shots, dewormed, 4 year health warranty, 4 weeks free pet insurance and a lifetime of breeder support. They are being offered for 3500.
Pics of some previous Goldenbelle Doodles
Examples of Mini Doodle Parti colours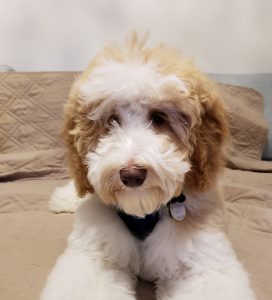 Example of cream colour.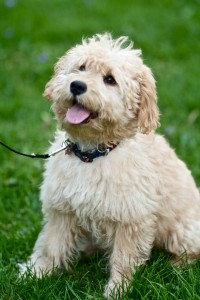 English teddy bear face mini goldendoodle just chilling
         F1b & F1 mini doodles
        F1b & F1 mini doodles
      Kona and Bailey, this is what our cream English doodles look like as adults
p