Click here for our puppy applications!
TESTINGS: prcd/PRA clear, CERF-normal
OFA hip-good  elb-neg.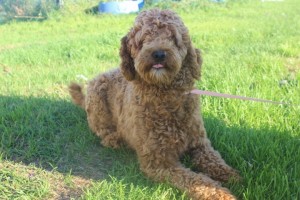 Goldenbelle Cara
TESTINGS: prcd/PRA clear, CERF-normal
OFA hip-good  elb-neg.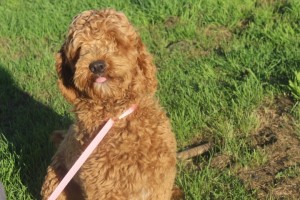 Previous Australian Labradoodle Pups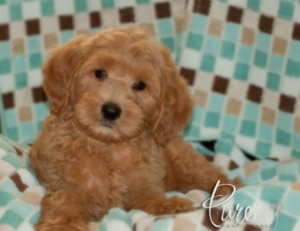 Australian Labradoodles set themselves apart from Labradoodles by featuring a mixture of four different breeds. Australian Labradoodles are a combination of a Poodle, Labrador, American Cocker Spaniel, and English Cocker Spaniel. Even with that additional of two other breeds, Australian Labradoodles are just as playful, friendly, and intelligent as their Labradoodle counterparts. In fact, they were initially bred as service dogs for the blind and visually impaired.
At GoldenBelle Kennels, we're thrilled to be adding Australian Labradoodles to our lineup of puppies for sale.
Some advantages of adding an Australian Labradoodle puppy to your family include:
Their temperament makes it easy for them to get along with kids and other pets.
They're intelligent and usually easy to train.
They don't shed much, if at all.
Although not every Australian Labradoodle showcases the same traits, we can help you find a puppy that's right for your specific lifestyle.
Australian Labradoodle Breeder
GoldenBelle Kennels has officially added Austrian Labradoodles to our breeding program. We breed mid size Australian Labradoodles, as well as the smaller minis and petites.
Our kennel has been breeding puppies for more than 35 years, and we take pride in the fact that our dogs are well cared for and trained. They're fed the highest quality food and given time to exercise and play outdoors, and they see the vet on a regular basis.
If for some reason you should need to return your Australian Labradoodle, we can take the puppy back. If your dog is ever diagnosed with a hereditary disease, we can replace it with a healthy puppy or provide you a new puppy down the line. We don't recommend trading in your loving puppy, but we do understand that poor matches happen, and we do what we can to ease the situation for all involved.
If you're interested in purchasing an Australian Labradoodle, contact us or fill out our puppy application. We will contact you when this breed becomes available.