We have downsized our breeding program, we no longer breed the Standard Bernedoodles and are now concentrating on the minis and the petites. We only breed a couple litters a year, this way we can spend more time with each puppy one on one and provide you with a happy healthy well adjusted puppy. We practice early imprinting to make the adjustment of moving to a new home easier on both yourself and the puppy.
   Pups come vaccinated, dewormed, micro chipped upon request and a 4 year health warranty with whole life breeder support. Pups are well socialized with other pets and children. Pups are weaned at 7 weeks old at which time crate training is started and we provide the puppies blanket to help ease the puppy into their new homes.                              
Bernedoodle puppies ready to go! Estimated size is between 30-40 lbs. 4 year health warranty, first shots, dewormed and micro chip upon request. We offer a life time of breeder support as well as online training with professionals, Tlc puppy pac and 4 weeks of free insurance with Trupanion. Pups are raised underfoot with kids and other pets, they have great temperaments and are easy to train.
 
 
Tri  Bernedoodle puppies ready to go
Female 2 and Male 3 have the same coat as the Bernese mountain dog, so if you love that look but not the size of the Bernese these are the pups for you, they will be half the size of the Bernese with a coat that is easy to care for and wont need grooming, these pups are great for ppl without allergies since their coats might shed a little bit. Please send me a text to inquire at 519-450-9820 or email goldenbelle@live.ca, 4 year health warranty, first shots and deworming have been done.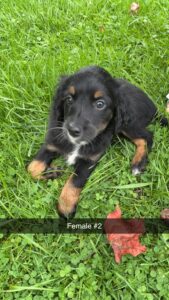 the link to the puppy food these pups eat is below
TLC Pet Food is a complete and balanced diet, made for a lifetime of superior-quality nutrition. We feed and recommend TLC Pet Food for all of the pets in our care. 

SAVE $5 on your first order when you use our link: https://tlcpetfood.com/nutrition/goldenbelledoodles/

FOR A LIMITED TIME RECEIVE AN EXCLUSIVE DISCOUNT CODE WHEN YOU SAY 'YES!' TO AUTOSHIP FOR $5 OFF YOUR NEXT TWO ORDERS!

Sign-up for Autoship during check-out and you'll be sent an exclusive discount code to your inbox. Redeem the coupon to receive $5 off your next 2 Autoship orders in addition to the $5 off your first order!