We have downsized our breeding program, we no longer breed the Standard Bernedoodles and are now concentrating on the minis and the petites. We only breed a couple litters a year, this way we can spend more time with each puppy one on one and provide you with a happy healthy well adjusted puppy. We practice early imprinting to make the adjustment of moving to a new home easier on both yourself and the puppy.
   Pups come vaccinated, dewormed, micro chipped upon request and a 4 year health warranty with whole life breeder support. Pups are well socialized with other pets and children. Pups are weaned at 8 weeks old at which time crate training is started and we provide the puppies blanket to help ease the puppy into their new homes.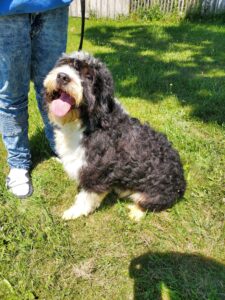 Mini Bernedoodles ready to go. Will weigh between 25-30 lbs.
Male and female available and ready to go.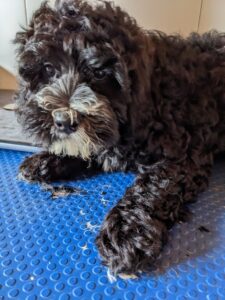 Petite Bernedoodles under 20 lbs. due early May ready early July. Waiting list is now open, 3 spots left for this litter. Mom and Dad are pictured below.
Below are pics of their previous litter, expecting same colours but there could also be a surprise!!